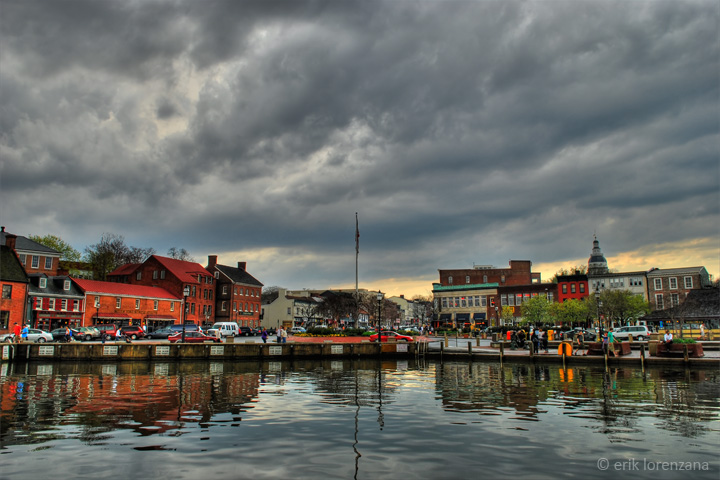 Annapolis, located on the Chesapeake Bay at the mouth of the Severn River, is the capital of the U.S. state of Maryland, the home of the United States Naval Academy, and St. John's College, all of which are within walking distance of the conference venue.
EARLY HISTORY
The capital of Maryland was originally called "Providence" when settled in 1649 by the Puritans. It was later called "Anne Arundel's Towne" after the wife of Lord Baltimore, who owned the proprietary colony. It wasn't until a Royal Governor, Sir Francis Nicholson, moved the capital here from St. Mary's City that the small seaport received its present name. Sir Francis chose to honor Princess Anne, heir to the throne. In 1708, as Queen, she chartered her colonial namesake as a city. Her royal badge, with a crown over the entwined thistle of Scotland and Tudor rose of England, is depicted on the Annapolis flag.
Sir Francis designed a city worthy of a Queen. Instead of using a customary grid, he constructed a baroque plan similar to the magnificent capitals of Europe. He drew circles with radiating streets to create focal points and give importance to certain structures. In one circle is St Anne's, the Episcopal Church, regarded as the spiritual center of the city. As the Church of England, it was originally supported by taxpayers.
In the other circle, rising over the harbor, is the State House, the seat of government. This urban design was admired by frequent visitor George Washington, who later had Pierre L'Enfant incorporate it into the nation's capital.

Annapolis briefly served as the nation's capital at the end of the Revoultionary War, and it was here that the Congress of the Confederation ratified the Treaty of Paris, ending the war.

ANNAPOLIS TODAY

Annapolis has more surviving 18th century structures than any other cities in the United States, and the Maryland State House is the oldest in continuous use in the United States. Many of these historic buildings are open to the public.

Tourism is a large part of the Annapolis economy. It is popular with boat enthusiasts. The downtown area hosts a number of festivals and live performances, and is home to many art boutiques. Annapolis is also noted for its Tidewater cuisine.
CONFERENCE SITE
The Loews Annapolis Hotel is located in downtown Annapolis just steps from the state capitol, and a short walk from the Chesapeake Bay waterfront, and the United States Naval Academy.